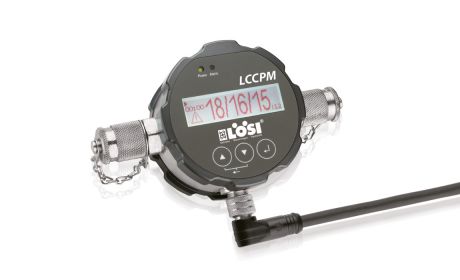 The LCCPM is a compact particle monitor for continuous monitoring of contamination and wear in hydraulic fluids and lubricants.
Recognizing change! Particle monitors precisely indicate any change in the contamination of the system. Thus, in the event of an increase in particle concentration, it is possible to react quickly and initiate countermeasures. Consequential damage is minimized and costs are reduced.
The LCCPM is designed for use at pressures up to 420 bar. This allows it to be connected directly to pressure lines.
The LCCPM has a bright graphic display and a keypad that can be used to make all the necessary settings. The menu navigation is intuitive and logically structured.
Extensive communication options
The LCCPM outputs data either on a serial interface or via the CAN bus (CANopen). The configurable 4-20 mA interface can be connected in parallel. A digital alarm output can be used to provide information when a limit value is exceeded or not reached. Measurements can be started and stopped time-controlled, manually or via a digital input. In addition, the data is stored on the integrated memory.
On the fluid side, the LCCPM has two minimess connections with which the sensor is usually connected to the system in the bypass flow. The electrical connection is made via an 8-pin M12x1 round plug. Due to the integrated data memory, recordings are possible over a long period of time. In addition to the technical functions, the LCCPM impresses with its compact construction and optical design.
The LCCPM is an optical particle monitor and works according to the so-called light extinction principle. I.e. the particles are classified in a measuring cell with the aid of a laser with regard to their size and number. The measured value is specified according to. ISO 4406:99 or SAE AS 4059.
1. the CAD data is provided as a zip file. The archive contains both e-drawings and STEP files.
To view the easm data you need the e-Drawings Viewer, for the STEP files a suitable CAD system.
2. these data are provided in a PDF document. To view these PDF documents you need a PDF reader.
EXTENSIVE SELECTION –
FIRST CLASS AVAILABILITY
EXTENSIVE SELECTION –
FIRST CLASS AVAILABILITY
EXTENSIVE SELECTION –
FIRST CLASS AVAILABILITY
Do you have any questions about our products?
For our LÖSI products we offer extensive free support
Use the option of the chat function on the bottom right, or click on "REQUEST NOW" now to get a callback, leave us a message or reach our toll-free hotline. We will be glad to help you.