Hydraulic pumps
We sell hydraulic pumps for over 40 years
Generate the perfect electricity with a high-quality hydraulic pump from LöSi.
Thanks to our huge stock of over 20,000 products, we have been supplying you independently and quickly – for more than three decades.
✓ excellent complete service – from technician to repair to spare parts
✓ best price-performance ratio – uncompromising quality, fair prices
✓ numerous satisfied customers over the years – with us you are the center of attention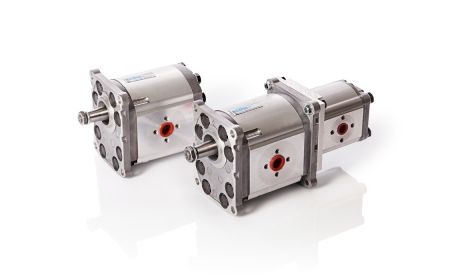 Gear pumps and accessories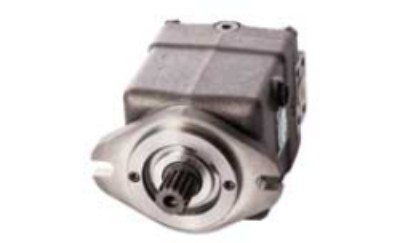 The machine is the heart of your company – and we put our heart and soul into keeping it beating.
EXTENSIVE SELECTION –
FIRST CLASS AVAILABILITY
EXTENSIVE SELECTION –
FIRST CLASS AVAILABILITY
EXTENSIVE SELECTION –
FIRST CLASS AVAILABILITY
Frequently asked questions about the hydraulic pump:
1. what types of hydraulic pumps does LöSi® offer?
LöSi® offers the following types of hydraulic pumps: gear pumps, axial piston pumps, vane pumps, radial piston pumps and screw pumps. Do you have any questions about a hydraulic pump call us, our experts will be happy to help you!
2. what industries need hydraulic pumps?
Our hydraulic pumps are used in the following industries, among others: Industry (e.g. manufacturing machines), municipal technology (e.g. sweepers, salt spreaders), agricultural technology (harvesters), construction machinery, plastic injection machines. The exact selection of the required hydraulic pump depends on the respective application. If you have any questions about the selection of a suitable hydraulic pump, please call us, our experts will be happy to help you.
3. how does a hydraulic pump work?
The operation of a hydraulic pump depends on the design. In our video tutorial, we explain how different types of hydraulic pumps work.
4. how much does a hydraulic pump cost?
The price of a hydraulic pump depends on the size and function. An axial piston variable displacement pump or a radial piston pump with 250cm³/rev costs considerably more than, for example, a size1 gear pump with 3.2cm³/rev. Another criterion is the required number of hydraulic pumps. If you have a specific price inquiry about our hydraulic pumps, please contact us. Our sales department will be happy to help you.
5. how can I get an information or more information about hydraulic pumps?
Our hydraulics experts are available Monday to Friday during our opening hours by phone and via our contact form by mail. We will be very happy if we can answer your questions. You are welcome to leave your phone number in the contact request and we will call you back.
6. what are my options when my hydraulic pump wears out?
Wear is unavoidable with intensive use of hydraulic pumps. An important role is played by the operating conditions of the hydraulic pump and the oil quality (contamination).
You can prevent wear by seeking advice on quality products before buying. In addition to selecting the right hydraulic pump, we support you in the area of fluid management. Once wear occurs, it is all the more important to have a competent service or a trusted repair shop. LöSi is known for its holistic service and we can also repair any wear again or offer you solutions due to our large stock of accessories and spare parts.
Does LöSi® have spare parts for my hydraulic product in stock?
One of our market advantages is a large and filled stock. We are also particularly proud of our stock during the Corona situation. Simply call or email our hydraulics experts and we'll immediately check the system to see if we have the part you need in stock.
Do you have any other questions? Then feel free to contact us!

Hydraulic pumps advice and service from professionals
If you have technical questions about hydraulic pumps or other hydraulic components, LöSi is the right place for you.
Not only do we offer you the highest quality hydraulic components, but we also support you with the best hydraulic pump advice as well as our outstanding service.
Take advantage of 40 years of experience and contact us now by phone or via ourcontact form.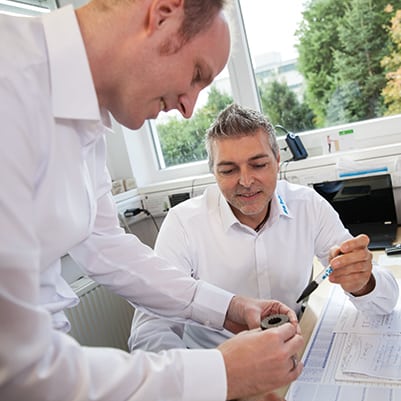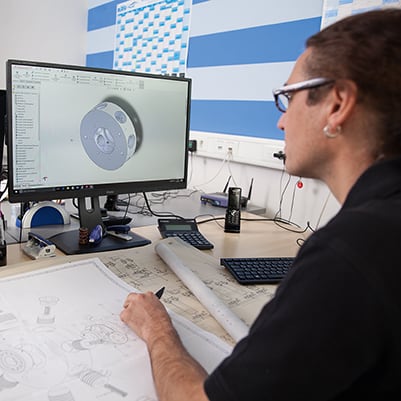 We are your hydraulic pumps supplier with 40 years experience
As hydraulic specialists, we at LöSi have a large number of hydraulic pumps available for immediate delivery.
The satisfaction of our customers is especially important to us – that is why we guarantee you the best service on the market as well as an extensive wealth of experience of over 40 years.
Write to us now via our contact form or simply give us a call.
Where are hydraulic pumps applied?
A hydraulic pump is the central element of any hydraulic system.
The primary task of the pump is to convert mechanical energy (torque, speed) into hydraulic energy (pressure, volume flow).
Hydraulic pumps operate on the positive displacement principle:
Sealed chambers are formed in the pump through which hydraulic fluid is transported from a tank from the suction port (input side) to the discharge port (output side).
There is no direct connection between the two ports – for this reason, hydraulic pumps are ideal for high system pressure.
Hydraulic pumps are used primarily in mobile machinery. These include for example
✓ Excavator
✓Wheel loader
✓Mining and drilling machines
✓Tractors
✓Mobile cranes
✓Hand crank drives and
✓ Forestry machinery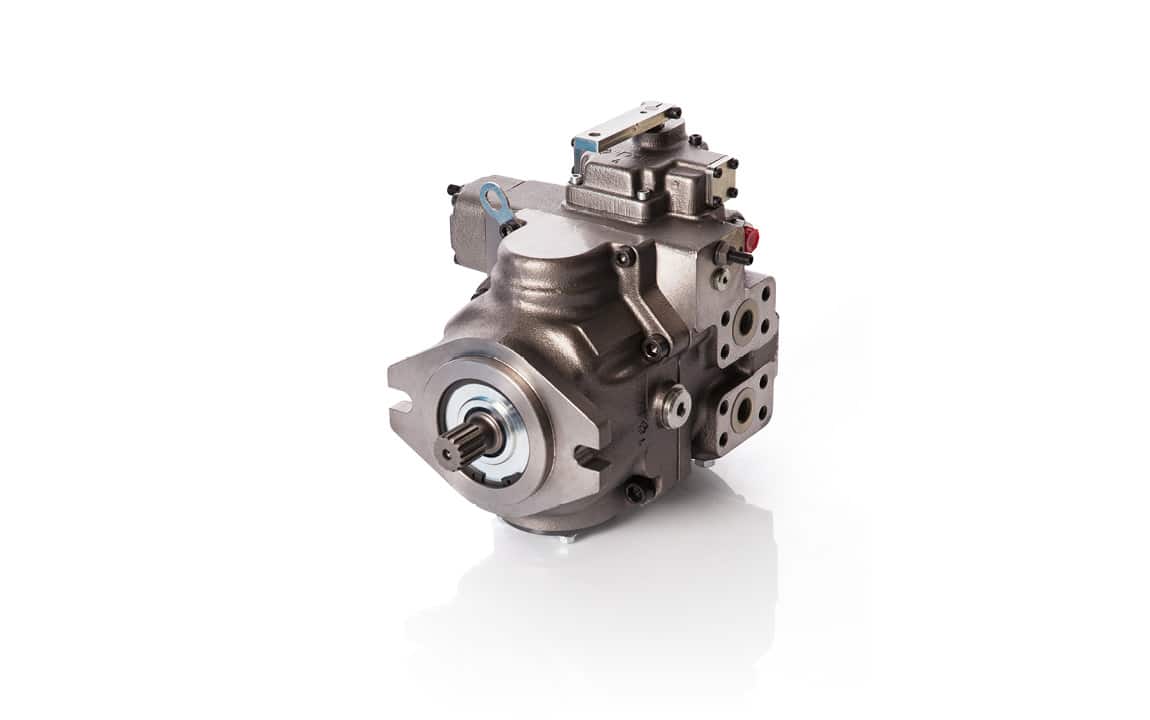 LöSi's high-quality hydraulic pumps can be used for both open and closed hydraulic circuits. They have high efficiency, first-class quality and long service life.
Our team of specialists will be happy to advise you on the optimum hydraulic pump for your system.
Take the first step and contact us today by phone or via ourcontact form.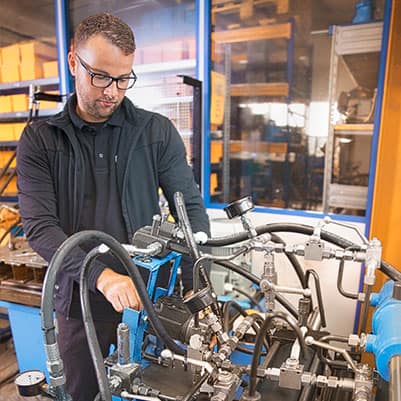 What to look for when choosing a hydraulic pump
A hydraulic pump plays a large part in the smooth operation of your hydraulic system. If you consider the following points, you can make a careful selection that makes sense for your operation.
Due to the multi-layered requirements, hydraulic pumps have different designs:
Axial piston pumps

Vane pumps

Radial piston pumps

Hydraulic hand pumps

Hydraulic pumps 12 V and

PTO hydraulic pumps
When purchasing, you should choose a hydraulic pump that is designed for the specific application in your plant, the ambient conditions and the medium used.
Ask yourself whether you want the pump to be constant or adjustable and whether you need two directions of flow.
Also note essential parameters such as displacement per revolution, operating pressure, speed range, tolerances, noise level and efficiency.
Need help making a decision from a professional?
With over 40 years of experience in the installation, repair and maintenance of hydraulic pumps, we at LöSi will be happy to assist you with the purchase of your hydraulic pump.
Contact us by phone or via our contact form – we are here for you!
Do you have questions about hydraulic pumps? Our experts are there for you!
Competence and quality without compromise – this is the credo of LöSi GmbH.
With a lot of passion we use our know-how to bring movement into your company.
Our trained employees are available to assist you in all matters relating to hydraulic pumps and hydraulic components.
We design first-class products for you according to your individual wishes and accompany you from project planning and development to maintenance and installation.
For our customers, we combine unique service with over 40 years of expertise – because your satisfaction is what drives us.
Call us on our free hotline at +49 631 – 351 24 – 0 or let us know via thecontact form with your request.
We are looking forward to meeting you!