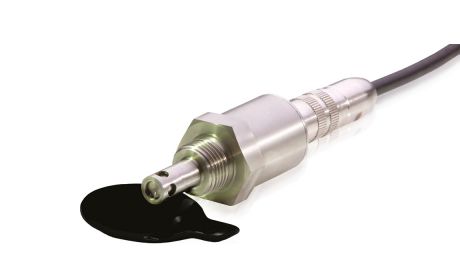 The LOQS realizes real-time monitoring of the actual contamination present and the water content in the oil.
Cost-intensive oil changes no longer take place at fixed intervals, but can in future be carried out on a condition-oriented basis.
The need for effective monitoring of critical plant and machinery is becoming increasingly important. On the one hand, the costs for oil changes are rising due to permanently increasing crude oil prices. On the other hand, the increasingly better quality of the lubricants available is leading to longer service lives. It is therefore all the more important that the lubricants used are appropriately controlled. Optimal real-time monitoring can determine the optimal time for an oil change.
Changing too early means high costs – changing too late means higher costs in most cases.
The LOQS can be used as a cost-effective basic solution for permanent monitoring of the oil condition and reliably measures impurities in:
Industrial plants
Diesel and gasoline engines
Compressors
Industrial gearboxes
Wind turbines
Generators
Hydraulic systems
The LOQS reacts 30 times more sensitively to the impurities in the oil than conventional sensors, which usually only work on the basis of the measured dielectric constant. In addition to the dielectric constant, the LOQS also measures the effective resistance. Contaminants such as metallic particles, soot, water, oxidation, glycol and special burnt oil increase this reading. With the LOQS you have the possibility of real-time monitoring of a possible increase in water content and the different stages of oxidation.
Lower maintenance costs
Longer oil change intervals
Higher productivity through planned downtimes
Low waste oil disposal costs
Low investment costs
Less CO2 pollution
1. Die CAD-Daten werden als zip-Datei zur Verfügung gestellt. Im Archiv befinden sich sowohl e-Drawings als auch STEP Dateien.
Zur Ansicht der easm Daten benötigen Sie den e-Drawings Viewer, für die STEP Dateien ein geeignetes CAD-System.
2. Diese Daten werden in einem sog. PDF-Dokument bereitgestellt. Zur Anzeige dieser PDF-Dokumente benötigen Sie einen PDF-Reader.
EXTENSIVE SELECTION –
FIRST CLASS AVAILABILITY
EXTENSIVE SELECTION –
FIRST CLASS AVAILABILITY
EXTENSIVE SELECTION –
FIRST CLASS AVAILABILITY
Do you have any questions about our products?
For our LÖSI products we offer extensive free support
Use the option of the chat function on the bottom right, or click on "REQUEST NOW" now to get a callback, leave us a message or reach our toll-free hotline. We will be glad to help you.