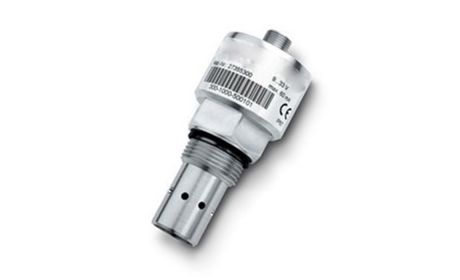 Application range
humidity sensor LCCHS
Water is not desirable in hydraulic and lubrication media. High concentrations of water can cause serious impairment of operation and damage.
Performance features
humidity sensor LCCHS
The LCCHS measures the relative humidity of the oil and thus directly indicates the degree of saturation with water:
0%: Absolutely dry oil.
100%: Oil is completely saturated with water. Further water is no longer dissolved and is present as free water.
In contrast to moisture analysis in the laboratory, where the water content is represented in absolute terms in ppm (parts per million), relative moisture measurement allows the saturation of the oil to be measured. The advantage of relative humidity over absolute water content is that knowledge of the oil and its saturation limit is not necessary to assess whether water is free or dissolved. Example:
Mineral oils (e.g. HLP) have a comparatively low water absorption capacity. 500 ppm here can mean that the oil is supersaturated and free water is present.
Ester oils (e.g. HEES) have a relatively high water capacity. 500 ppm here can mean that the oil is only about 15% saturated.
The behavior of relative humidity at different temperatures should also be noted: warm oil can dissolve more water than cold oil. Therefore, the relative humidity increases as the oil cools without adding more water. It is possible that when cooled to ambient temperature, a hot relatively dry oil may suddenly contain free water.
The LCCHS indicates the current saturation of the oil with water, regardless of the type of oil and temperature, and provides additional safety in the operation of equipment by providing a direct warning.
The sensor is provided with a ¾" thread and can be integrated into the tank. Communication with the sensor is optionally via a serial interface or via two analog (4-20 mA) outputs.
Measuring principle
Humidity sensor LCCHS
The sensor detects the relative oil humidity and temperature of the fluid. Through an oil specific calibration it is possible to calculate the absolute humidity of the fluid.
The measured values are given via RS-232 and the analog outputs.
1. Die CAD-Daten werden als zip-Datei zur Verfügung gestellt. Im Archiv befinden sich sowohl e-Drawings als auch STEP Dateien.
Zur Ansicht der easm Daten benötigen Sie den e-Drawings Viewer, für die STEP Dateien ein geeignetes CAD-System.
2. Diese Daten werden in einem sog. PDF-Dokument bereitgestellt. Zur Anzeige dieser PDF-Dokumente benötigen Sie einen PDF-Reader.
EXTENSIVE SELECTION –
FIRST CLASS AVAILABILITY
EXTENSIVE SELECTION –
FIRST CLASS AVAILABILITY
EXTENSIVE SELECTION –
FIRST CLASS AVAILABILITY
Do you have any questions about our products?
For our LÖSI products we offer extensive free support
Use the option of the chat function on the bottom right, or click on "REQUEST NOW" now to get a callback, leave us a message or reach our toll-free hotline. We will be glad to help you.